RELX Infinity—Infinite Charging
As you've probably realized by now, not all vape devices operate in the same way—and that can be frustrating when you're on the go, and your device's battery runs out. 
We've all had a vape pen or e-cigarette with less-than-stellar battery life. It seems to run out of power too quickly and at the most inconvenient times. 
It's frustrating to have a device that you have to recharge frequently. You deserve something that can keep up with your lifestyle. 
Luckily, RELX understands how important it is for vape devices to have a long-lasting battery life. Our flagship RELX Infinity delivers all the power you need. You won't be waiting on your device as its design makes it suitable for everyday use. 
To learn more about this ready-when-you-are vape device, read our RELX Infinity review! 
RELX Infinity
The RELX Infinity is the brand's most revolutionary product yet. As its name indicates, this device offers infinite utility, reliability, and taste. 
Design
The Infinity device is available in either black, white, or red. It has a simple design that offers a sleek, clean look. On the back is a minimalistic RELX logo. The front is bare except for an LED indicator light that lights up as you inhale.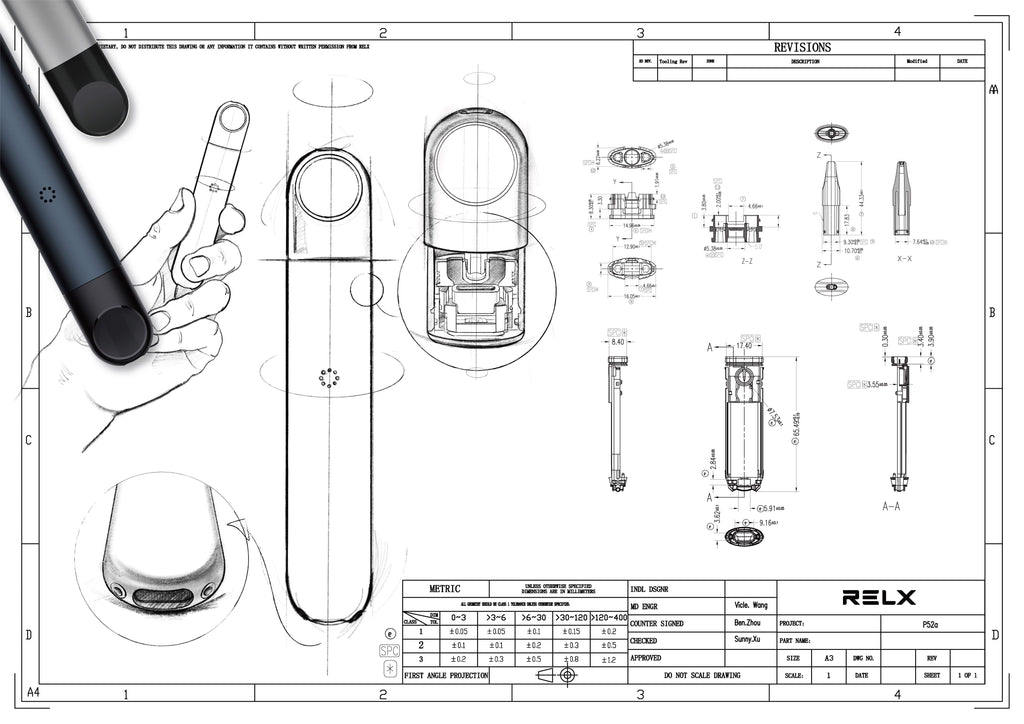 Its aluminum unibody is lightweight and smooth like satin. It is easy to take with you wherever you go and can withstand lots of use. Plus, because it's comfortable to hold, it creates the ideal vaping experience.  
As for the mouthpiece, it features an ergonomic design. It is different from other vape pens as it has a rounded top with circular surfaces on either side. This shape makes it comfortable to use and fits perfectly on your lips. It also allows for a nice, tight draw. 
Another unique thing about the Infinity is its Smart Pace Vibration Alerts. The device will vibrate and flash its LED indicator light to notify the user when they take more than 15 puffs within 15 minutes. This feature helps users keep track of their vaping use.  
RELX Pod Pro
To use the Infinity device, just insert the symmetrical RELX Pods Pro. You can buy these pods in single and dual packs. When the e-liquid runs out, just swap out the pods with a new one. 
All RELX Pods Pro feature a QR code to check for authenticity. To use it, simply pull off the protector at the bottom and you can scan the code. Before you begin vaping, make sure to remove the bottom and top silicone plugs that help prevent leaks during shipment. 
Then, insert the pod into your Infinity device. The pod will magnetically click inside of the device. The device will vibrate and flash its LED indicator light when you insert the pod correctly. The mouthpiece may wiggle a little, but this is perfectly normal.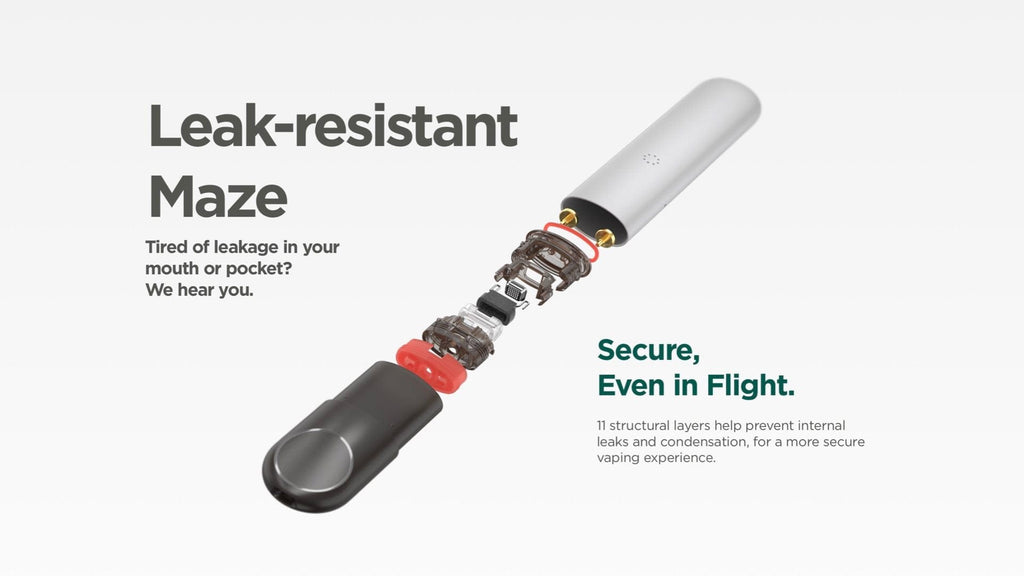 Each RELX Pod Pro contains 1.9 mL of liquid, which lasts the average user around 300 puffs. The unique 11 structural layers and a maze-like structure help prevent condensation and leaks. You won't have to deal with messy spills, even if your device tips over or when you travel by plane. 
Note that the Infinity device and pods are available separately. The Infinity device gives you control over your vaping experience and lets you choose the flavors you want. 
A Flavorful Vaping Experience
The pods are available in the following flavors: 
Garden's Heart

Fresh Red

Dark Sparkle

Ludou Ice

Tangy Purple

Menthol Plus

RELX Pods Pro are also available in a range of nicotine levels. This variety allows you to find one that is most suitable to your preference. 
Dual Charging Capabilities 
One of the Infinity's most notable features is its charging capabilities. One charge should last you a whole day, meaning your device is ready when you are. 
Charge On-the-Go
The Infinity has a superior battery life that will get you through the day (and often even longer!). When the battery is getting low, the device's LED indicator light will slowly flash red. When the device is completely out of power, the LED light will rapidly flash red. 
The Infinity charges very conveniently by using the symmetrical Type-C port that you can plug in quickly and easily.
It also has on-the-go charging capabilities. You won't have to interrupt your day thanks to the RELX charging accessories (see below). 
Type-C Charging
The Infinity charging accessories and the device itself use Type-C charging connectors. They are reversible, making them easy to plug in and quickly charge. 
RELX Charging Accessories
The Infinity already has an ideal charging life. It will last you all day before you have to plug it in again. 
As if this weren't enough, you can also complement it with the RELX charging cases. They allow you to charge your device wherever you may be. Thanks to these accessories, you won't have to worry about your device running out of battery during the day. 
RELX's Large Charging Case
The Large Charging Case is lightweight with hinges which let it open much like a sunglasses case.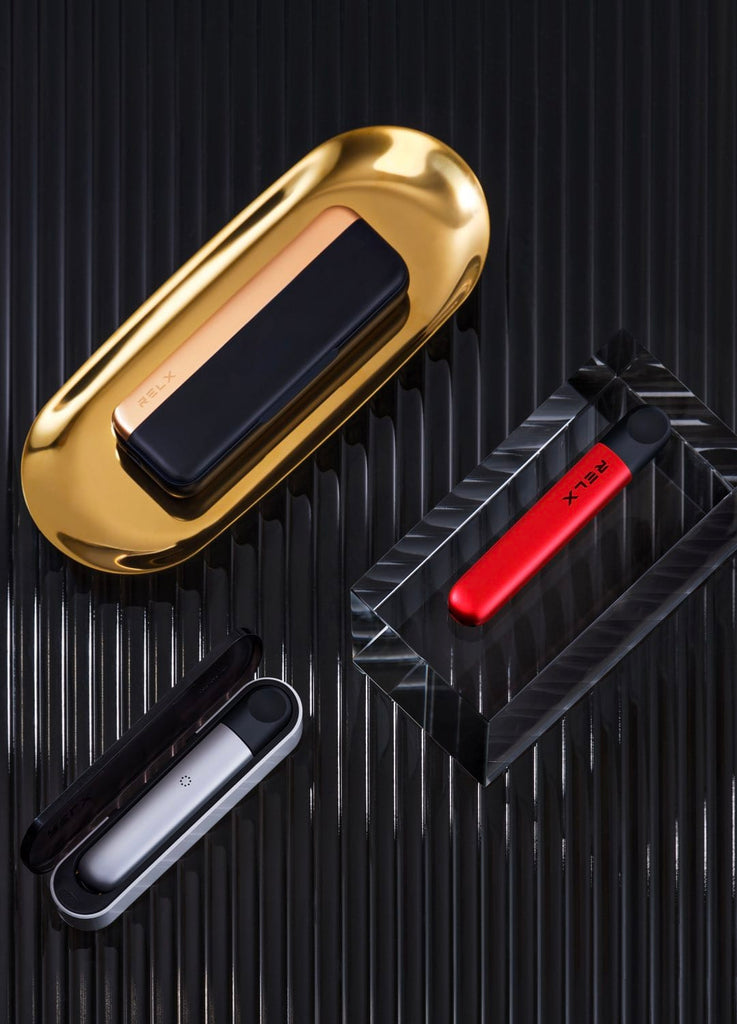 The case is durable and will protect your device on-the-go. You can rest knowing your Infinity will be safe at work, in the car, or even on a hike. With the unique charging case, you can know that your device has a stylish and clean storage space.
To use it, all you have to do is slide your device into the case. The pogo pin will attach inside and the device will vibrate once it is correctly sitting in the case. 
If it doesn't vibrate, you may have to readjust the device to reconnect. Once the device has finished charging, you push on the bottom to slide it out. 
The Large Charging Case has a Type-C charging port, making it convenient to recharge. The 1500mAh device holds enough juice to charge your Infinity device 2-3 times. This accessory is easy to take with you on-the-go. 
RELX Mini Case
The Mini Case is similar to its larger companion but more compact. It has a Type-C port and is super durable and lightweight. 
Seeing as it is smaller, it only has 1000mAH. The charge capacity is enough to charge your Infinity a couple of times before you need to recharge the case. 
The slightly smaller size might be the better option if you are tight on space. Regardless, either the Large or Mini Case will be a great addition to your Infinity device. 
Order Your RELX Infinity Today
As you can see, the RELX Infinity has many benefits. It uses cutting-edge technology to provide a comfortable, reliable, and tasty experience. Aside from being easy to use, it prevents leaking and gives you access to delicious flavors. Best of all, it has a long battery life and will keep up with your busy lifestyle. 
E-cigarette users love the RELX Infinity for everyday vaping. You, too, can benefit from this revolutionary device. Order yours today!