RELX in the City – Dubai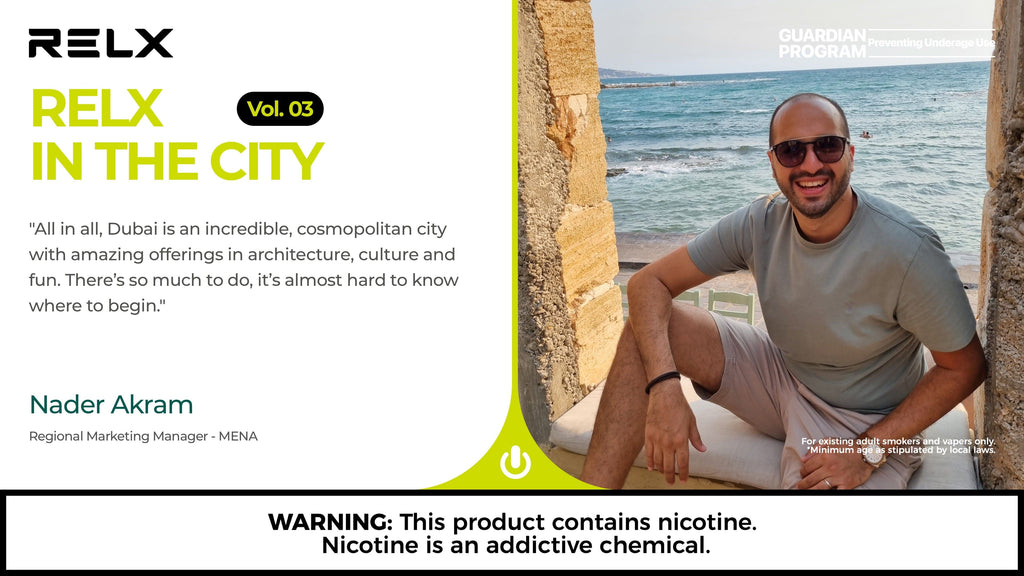 As global brand with strong local presences in the communities where we operate, RELX has an intimate knowledge of a variety of cities and regions around the world.
With this newest series, RELX in the City, we're taking a moment to zoom in on some of the most interesting (and often overlooked) cities where we've made our home, to give you an idea of what you might want to see and do should you ever visit. And, as Covid-19 is being brought under control in more and more regions globally, the ability to indulge your travel bug might just be coming sooner than you think.
In the second installation of RELX in the City, we're taking a look at Dubai, United Arab Emirates, "one of the most advanced cities in the world," according to Nader Akram, our RELX employee in residence and Regional Marketing Manager - MENA. Let's get the inside scoop from Nader about Dubai below.
The United Arab Emirates is a federation of seven emirates – the capital Abu Dhabi, Ajman, Dubai, Fujairah, Ras Al Khaimah, Sharjah and Umm Al Quwain. The capital of the Emirate of Dubai, the city of the same name is the UAE's most populous city and a world-class metropolis that plays host to insanely good sites to see, world-class restaurants and amazing recreational opportunities. I've been living here for 10 years and have some inside knowledge about some of the best places to visit in this wonderful city should you ever be passing through.
What to See
Honestly, I could tell you a thousand things to do in this city, however, it simply wouldn't be a visit to Dubai without a trip to the Burj Khalifa, the world's tallest building. It also houses the most stories in the world at over 160. From the upper floors of the building, you'll be able to enjoy gorgeous panoramic views of the city of Dubai, and you can even have tea or a refreshing beverage in the lounge.
If you're feeling adventurous and want to step out into the sky over the city, I'd take a trip over to the Palm Jumeirah Islands for some skydiving. The tandem skydive is a pure adrenaline rush that affords a gorgeous bird's eye view of the Palm Jumeirah Islands.
After feeling your heart race from jumping out of an airplane at 13,000 feet, you might need to calm down with a leisurely stroll through Dubai's Old         Quarter and the Old Market there. The Old Quarter dates back to the 19th century and offers a peek into the historical roots of the city. You can peruse the gold market, enjoy lunch at a traditional Arabic tea house, and even check out the spice souk (the word for market) as you step through the wafting aromas of spices and herbs.
Where to Eat
Instead of recommending specific restaurants, I'll recommend some dishes first. After all that touring, you're bound to have worked up an appetite, and if there's one thing you absolutely have to try, it's the popular local dish Mandi, which consists of slow cooked lamb with rice and spices. It's cooked to fall-off-the-bone perfection and is simply delicious. I'd recommend Al Jood Mandi if you're looking to try this local dish.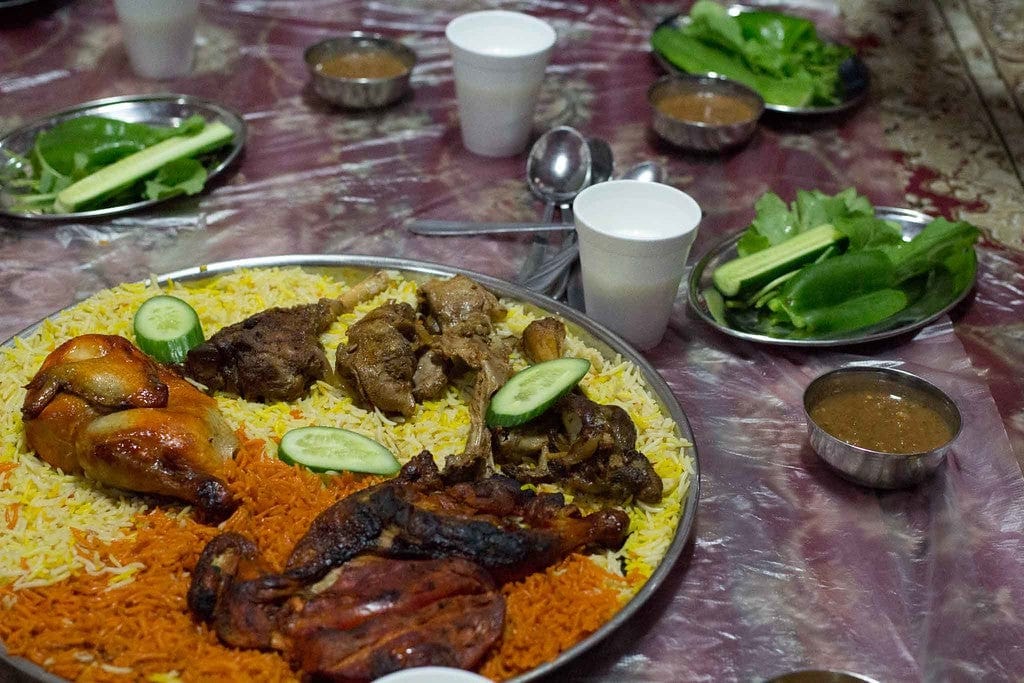 Mandi served with fresh vegetables
There's also amazing Arabic coffee which you can find everywhere, however, I'd recommend trying the coffee at Café Bateel for their traditional Arabic coffee known as qahwa, which is infused with cardamom and served with dates.
If you want something else sweet to chase down your coffee, there's chebab – a type of traditional Emirati pancake made with spices and served up with syrups and other toppings.
You can find drinks in Dubai, and indeed the cocktail scene is growing. You can check out some of the incredible bars and restaurants that line the Palm Jumeirah waterfront and enjoy the beautiful views of the coast and balmy weather while you relax with a drink.
What to Do
Of course, Dubai also has some awesome activities and recreational venues from incredible, all-inclusive resort staycation experiences, to days walking on sandy beaches.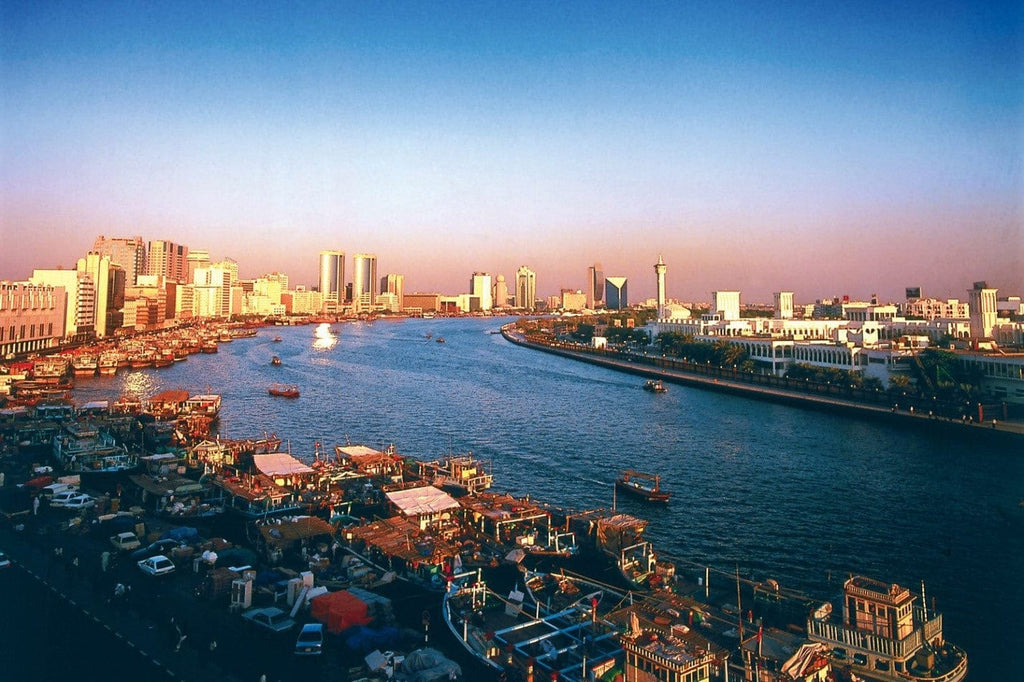 A view of Dubai Creek
There are a range of wonderful beach resorts in Dubai, but if I had to recommend a place to stay it would have to be in the Madinat Jumeirah area. The location along the canals and proximity to the beaches makes it quintessentially Dubai.
You can also take advantage of the desert around Dubai to enjoy some awesome sandsports like sandboarding and sand duning. Sand duning, which refers to taking ATVs out on the desert dunes, is loads of fun and sandboarding, which is similar to snowboarding is a blast as well for the thrill-seekers out there.
Many are surprised to find Dubai has great hiking and camping as well. One of my favorite trips is camping by the lakeside in Al Qudra to enjoy the lush wildlife and foliage. There are also hiking trails about 130 km east of the city center called the Hatta trails.
Keep in mind when you are in Dubai, even though the city is not teetotaling, you still don't want to be drunk and unruly in public. Stay in your resort or bar when drinking and be cool and you'll be fine.
All in all, Dubai is an incredible, cosmopolitan city with amazing offerings in architecture, culture and fun. There's so much to do, it's almost hard to know where to begin.
Did we miss anything? Do you have a favorite site to see, restaurant to eat at, bar to sip a drink at? Let us know in the comments below!
*This content is sponsored by RELX International.
**RELX International reminds you to travel responsibly and take the necessary precautions when visiting other places.
---
Also in Blog and Additional Resources from RELX