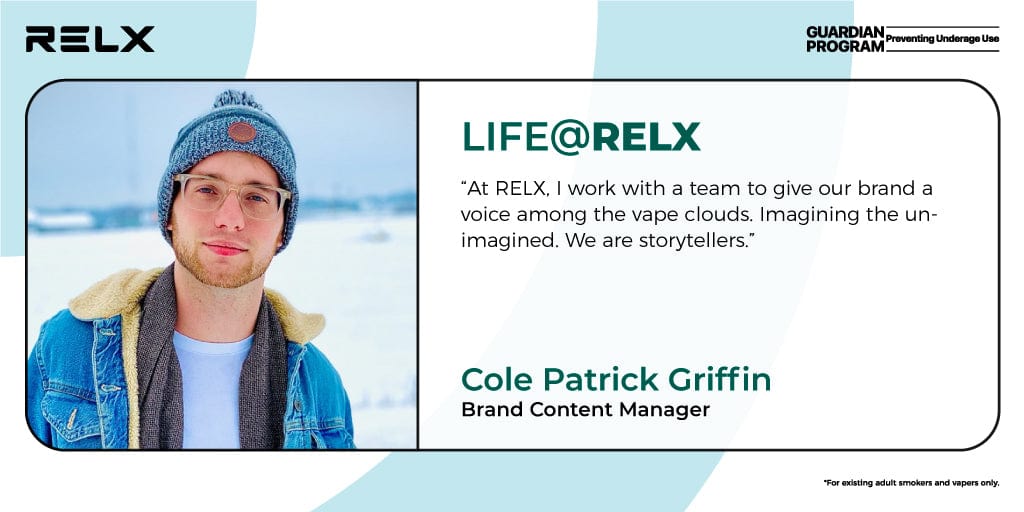 Cole Patrick Griffin is RELX's Brand Content Manager. He loves the thrill of taking on challenges and finding the right marketing path to tell the RELX story.
1. How would you explain your job in RELX?
I work with a team to give our brand a voice among the vape clouds. Imagining the unimagined. We are storytellers.
2. Why did you join RELX?
RELX is a start-up company with a female CEO. This was inspiring enough, but once I met my team, I knew this opportunity was the right decision.
3. What keeps you going? What inspires/motivates you?
I'm motivated by those around me. When it's late at night and we are still smiling, laughing and helping one another, it's a good feeling.
4. What is the most interesting thing you have learned at RELX?
To feel comfortable around leadership. During my first month at RELX, I was shaking hands with our CEO. It was surreal, but empowering. 
5. Speaking from your own experience, what challenges would a new RELXer most likely to face ? And how would you overcome it?
Of course, in a new role, you may feel lost in the beginning, but don't be shy in this office. Regardless of the team you are on, you can ask anyone for assistance, and they will help you get the answer. We all work together.
6. What's one word that you will most likely use to describe your team and why?
Inspiring. If you were to see all the hard work they put into each project, in addition to all the setbacks along the way, I'm certain you would feel inspired. We never give up.
7. What is the most exciting/memorable project you have participated in RELX and why?
RELX Super Smooth™ -- I believe this project will make a big impact on our brand image in the long term.  
8. What sets RELX apart from other brands?
We put so much thought and care into every detail – from the flavor in the pods, to the device features and packaging. It's all been designed with the consumer in mind.
Leave a comment
Comments will be approved before showing up.