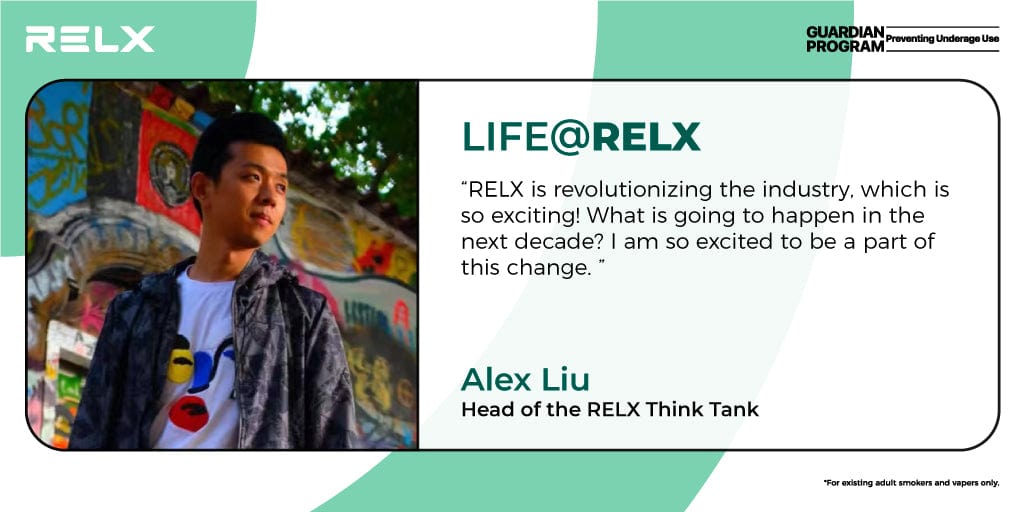 Meet Alex Liu, the Head of the RELX Think Tank. Alex is excited to be a part of the industry revolution and also a coffee enthusiastic.
1. How would you explain your job in RELX?
Some of my major responsibilities are providing information coming from business reports, media, policy, conducting market education and writing research reports.
2. What's your favourite part of being RELXer?
RELX is revolutionizing the industry, which is so exciting! What is going to happen in the next decade? To be part of this change is so exciting. 
3. What makes you most effective at work?  
Effective time management. Also, because I have a broad work scope, the great support from other teams makes me more efficient.
4. Why did you join RELX?
For one, e-cigarettes are an excellent business. It's not a temporary trend, it's the future.
Secondly, RELX has a great team. When I was a journalist before joining RELX, Uber was one of the very few international companies that had done a great job at localizing their services. Behind that success lies an experienced team.
 5. If you were a RELX Pod Flavour, what would you be and why?
White Freeze. This flavor gives me a nostalgic feeling of the 80's when I was eating creamy icicles.
 6. What are your hobbies outside RELX?
I like making and drinking specialty coffee. In my spare time, I enjoy collecting coffee making gears and beans and learning everything about coffee. I also enjoy running. I completed a few marathons before I suffered an injury and had to retire.
7. If you were in a magazine or news article tomorrow, what would the headline title be?
"A Young 80's Lad has Changed Stereotypes about Chinese Men Forever"
8. What is the most interesting thing you have learned at RELX?
In the past ten years, I worked for a few media and technology companies. They weren't selling any material products. But at RELX, we have products you can touch and use. The most interesting thing is the feedback and creativity from our users. Our users are always providing super creative and fun ideas to improve them.
Leave a comment
Comments will be approved before showing up.